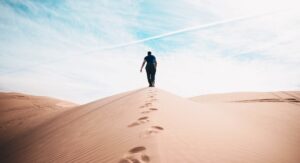 As an author I talk with many people who want to write a book. From memoirs and children's books to non-fiction, sci-fi and romance novels. However, many people never get around to it. The ones who do, I congratulate, as it's not as glamorous as it sounds.
I've written four books and understand well the tedious process – especially the editing ordeal. The time-consuming effort to correct grammar and punctuation. Making sure each and every sentence makes sense.
But if you are a want-to-be author who might not get around to writing – cheer up. Trust the advice my mom gave me years ago. "Be the best book you can be as you never know who's reading you."
Perhaps that suggestion is more important than any book you'll ever write. Your life is the greatest product and/or service you'll ever have to offer the world. Every thought you have, every word you speak and every action you take has your signature for you are the author.
Behind every thought, word and action is energy that is carried forward long after you're gone.
Think carefully about what kind of imprints you wish to leave – reminding yourself that you have the capacity now to influence future generations.