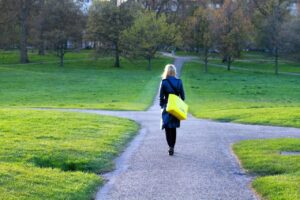 The Courage to Be You
Through the course of our lives we play many roles. However, the best role is not played but fully and courageously lived out as your authentic self.
Look carefully at your life today – the good, the bad, and the in-between. Accept it. Don't judge it. Then ask yourself if what you see represents your true self.
A Test of Courage
I knew a young single mother who when confronted with a crossroad, had to choose which road to take. Desiring to work with young children she registered at the local city college. Yet, deep inside she knew it wasn't a fit for she intensely disliked school.
Faced with that fact, she dropped the idea of college and pursued jobs working with children. The last phone call to a Montessori school hired her to run errands. Within a month she was promoted to front desk.
When a teacher unexpectedly left they placed her in the classroom, promising to train her for free and help her become a certified Montessori teacher.
She has been teaching now for over 18 years because she had the courage to jump from the traditional path to her path.
Can You Make the Leap?
Whether you're a young mother or a CEO of a corporation, if you're not honoring your authentic self, you're cheating yourself and others.
When you're faced with a crossroad what will you choose? Remind yourself that taking a risk to be real is never a risk.
It's freedom.