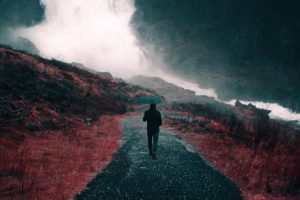 Have you ever felt fearful that the direction for your life was hidden deep in the fog?
Are you having difficulty achieving and maintaining a clear vision for yourself when confronted with skeptics, critics, on top of an unpredictable future?
Apply the 5 strategies below:
#1 Address your own level of fear – not others. Your fear will glue you to negative thoughts and emotions – the danger zone for making careless and poor decisions.  Any area of your life in which fear rules you, can create a thick fog that can prevent you from moving forward and hide your unique path.
#2 Move slowly. The secret to walking through thick fog is to move through it carefully, slowly, one step at a time. Your fear is a false protective shield you've built around yourself. It can freeze you in your tracks and set up mental roadblocks that keep you from taking action. Or it can lead to a panic causing you to speed ahead only to get further lost in the fog.
#3 Take one step. When you find yourself lost in thick layers of fog, take just one step. Next check in with yourself– are you OK?  Do you know what your next step is?  Now take it.  With each step you take, your clarity will increase and your fear will decrease. 
#4 Listen to Yourself. Do fearful stories fill your mind? Listen carefully to your self-talk. Emotionally you may feel lost in the fog but if you change the dialogue in your head to strong positive thoughts your fears will begin to dissolve. As clarity takes over you will begin to see a clearing where there used to be fog and confusion.
#5  Trust Yourself. When you begin to trust your journey you will begin to maneuver the curves and hills with greater ease and finesse. Trust yourself and have faith. Practicing faith develops a positive outlook and attitude. Your responsibility is to maintain it. Then watch for new doors to open leading to a multitude of possibilities.
"To escape fear, you have to
go through it, not around."
~Richie Norton