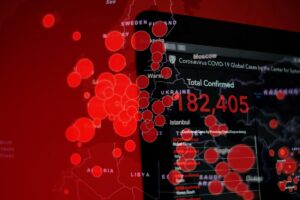 The world has become very loud. It's on overload – full of fear, anger, sadness and frustration. Rightfully so, as this global coronavirus pandemic is terrifying. Are you like many people whom I've talked with who are feeling helpless and wish they could do more to contribute to the solution?
You can.
I show leaders how to lead with their mind. They learn how to settle strong emotions, establish mental clarity and become receptive to higher wisdom. They begin to realize that through the correct use of their mind they can creatively problem-solve – arriving at solutions with greater ease.
Below are 7 simple steps, that when practiced daily, will help you to reduce any fears you are experiencing. Our fears cloud and distort our minds, often causing our emotions to run the show. What is needed in a crisis is clear thinking. You will find this in the silence.
The first step requires discipline. Remove yourself from the noise of the world. Turn off the TV, your phone and find a quiet space where you can be alone. Sit comfortably with your feet on the floor.
Next take slow, deep breaths. As you begin to feel quiet inside, let go one-by-one of all your concerns that cause you anxiety. Visualize what you want for yourself, for others and for the world at large. As you become mentally focused on it, see it accomplished. Declare that it is so and give thanks that it is.
Your thoughts and words are creative. As you think and speak you are shaping and defining your life. If you will commit to practicing ten minutes of silence daily, you will begin to calm down, become clear-headed and receive guidance intuitively in all areas of your life. Below are the steps:
Become quiet
Emotionally calm
Mentally focused
See the result
Declare it done
Give thanks
Trust
Then let go of how the path to the result should look. You'll never figure that out. Leave it up to the universe and just know it will.
When we are quiet and still – in the silence we find solutions. Clarity is ours when we become calm. Fear is reduced. We tap into higher levels of creativity. Intuition is heightened and leads us to take right steps at just the right time.
Imagine. What if collectively, every single person on earth focused on health and healing for all? Or asked that our every need from masks to ventilators to a vaccine cure take place? It would.
Always remember that your thoughts and words are the paint brushes of your life. And your life affects the entire world. Think and speak well of yourself, others and the entire world… and it will be.
"All humanity's problems stem from man's inability to sit quietly in a room alone."
Blaise Pascal, French mathematician, physicist, inventor and writer.