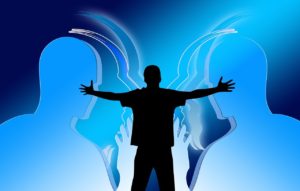 Have you ever had a vision for your company that you believed in with every part of your being? A vision that would empower your company to become a significant player, yet it was opposed by senior officers or shareholders?
When a leader has a carefully calculated vision that is dismissed or blocked it's easy to react in anger. Even when his or her frustration is internalized, it can become a slow burn that spirals into resentment, which can lead to deep-seated relationship challenges. If you've ever been in the position of having your vision or idea ruled out, you know how demeaning it can feel.  Even during weekly staff meetings, when you believe that you haven't been heard or your idea was shut down without discussion it can be upsetting.
Fortunately, there are ways to go beyond the frustration. The key? Your imagination. Your imagination allows you to change your thinking and the images you carry in your head. If you continue to allow resentment to rule you, be aware that it affects every area of your life.
Vera Fryling, M.D., during World War II was a Jewish teenager who lived undercover in Berlin during the Holocaust. During this time, she would visualize she was a doctor, a psychiatrist living in a free land. After her release, she became a doctor and eventually joined the faculty of the San Francisco Medical School. "Imagination," she says, "can help one transcend the insults life has dealt us."
Use your imagination to free yourself from the confines of your present experience. Let it charge you with renewed energy to achieve your goals.  To begin:
Paint a better picture in the inner landscape of your mind, regardless of your current circumstance. Begin to dwell on what you want – not what happened, what you don't have or didn't get.
Forgive others and yourself for any past regrets or grudges.
Create a picture filled with vivid, rich details.
See the outcome as already accomplished.
When doubts creep up, see and feel your image as part of your current reality.
Be open-minded and allow for unexpected and welcomed possibilities.
Be grateful for the opportunity to grow beyond the barrier.
Pour your passion into your image. Fill it with color, sounds, textures and layers of feelings. Supercharge it with emotion to help bring it to life. However, remember that the picture you imagine means nothing if you sabotage it with underlying feelings of anger, distrust, jealousy or ill feelings of any kind.  Therefore, clean up the barrier in your own mind first until you experience peace.
Then continue to visualize. You will be amazed by the results.
"Leadership is the capacity to translate vision into reality."
~ Warren Bennis, Management Consultant