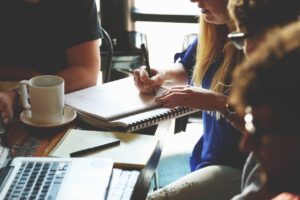 The lazy days of summer often, well…make us lazy. Which is perfectly fine, in-fact enjoyable, but not at the expense of neglecting your business or putting off brainstorming your new one.
Below are 10 simple steps that will help you remain true to your business vision.
 1) Be accountable to an action partner. Someone you can check in with on a consistent basis (once a day, once a week). Report what actions you took and what actions you will take before your next scheduled conversation.
 2) Write a to-do list. Write it out the night before and check off items as you complete them. Carry uncompleted items over to the next day. Just as important, be flexible and allow for interruptions. In other words, go with the flow — life happens.
3) Follow the money. Be clear on receivables and expenditures. You should know as much as your bookkeeper. A successful business operates from a foundation of fiscal responsibility.
4) Review your goals. In the morning and before you go to bed, read your goals. Let your subconscious know who's in charge. Add new steps and strategies toward accomplishing them and check off actions completed.
5) Create an inspired environment. Fill your work space with what you love. It needs to be a space in which you can flourish and feel good. A space filled with order, tranquility and beauty.  Hire an organizational coach if needed — your world will transform.
6) Exit "bad neighborhoods." Your head will tell you that you are crazy from time-to-time and negative messages will try to sabotage your best intentions. When your head takes over, exit immediately — your well-being is at stake. So is your business.
7) Turn yourself in. When you've procrastinated and put off an action you know you need to take, "turn yourself" in by admitting it to your "action partner."
8) Create a positive support system. If there are significant others or friends in your life who are unable to be supportive, don't share with them. Seek out those who are understanding and supportive of your vision.
9) Use what you have. Don't go broke trying to live your dreams. Slow down, stop and think. Use your creativity instead of your overextended credit. There will be a solution and it won't break the bank.
 10) Consult your inner 85-year-old. When you are confused and struggling with which way to go, ask your inner 85-year-old what he or she would do. Your inner wisdom will surface. Listen, trust and follow it.
"Some people dream of success,
while other people get up every morning
and make it happen."  ~ Wayne Huizenga